Dr. Riley J. Williams III
Orthopedic Surgeon & Sports Medicine Specialist
Knee, Elbow & Shoulder

Manhattan • Brooklyn • New York City
Dr. Riley Williams is an orthopedic shoulder, elbow and knee specialist and an expert in the field of sports medicine. He is a nationally recognized leader in the sub-specialty field of cartilage repair and restoration. His practice at Hospital for Special Surgery in New York City is dedicated to the prevention, diagnosis and treatment of sports-related and orthopedic injuries. Dr. William's protocols for returning injured patients back to their desired levels of sport and activity have evolved from working with professional sports teams for over twenty years and are effective for athletes off all levels.
Musculoskeletal Care and Cartilage Repair for Athletes of All Ages
An avid fitness enthusiast who enjoys cross-fit, HIIT training, cycling, skiing, golf, running and swimming, Dr. Williams empathizes with a patient's need to get back in the game as soon as possible. In this video, he discusses his approach to care and rehabilitation after surgery. He is very interested in helping athletes achieve the best clinical outcomes by getting them back in the gym as quickly as possible to maintain their fitness levels.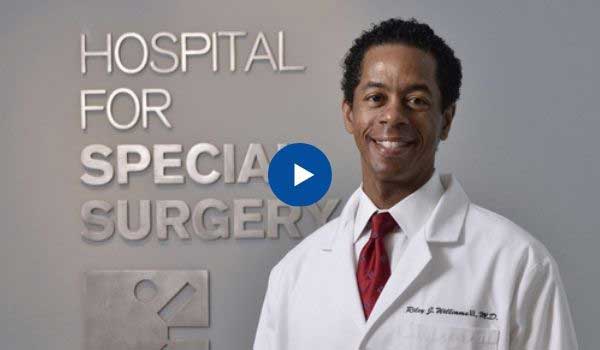 Team Physician For:
Orthopedic Sports Medicine
Clinical & Research Interests
Dr. Williams is the Director of the Institute for Cartilage Repair at Hospital for Special Surgery (HSS) in Manhattan. His clinical and research interests are focused on returning athletes to sport and include:
Knee
ACL reconstruction and repair
Knee ligament reconstruction and repair
Cartilage repair and cartilage transplantation
Meniscus repair and transplantation
PCL and multiligament reconstruction
Knee osteotomy
Shoulder & Elbow
Shoulder arthroscopy
Shoulder labrum repair
Shoulder biceps repair
Shoulder rotator cuff repair
Shoulder stabilization
Elbow ligament reconstruction
Where does it hurt?
Click the interactive map to explore the services and procedures we provide. Learn more about the symptoms you are experiencing, then contact us to to discover the best plan of action to resolve your injury or pain.